COFA Deburring Series 2

Ød

ØD1

ØD

Complete Tool with Blade

Min. Hole

Tool Diameter
+0/- .03

Approx. Cutting Diameter

Front and Back
Order Number
Back Only
Order Number

mm

inches

mm

inches

mm

inches

2.0

.079

1.95

.077

2.2

.087

COFA2-2.0- ☐

COFA2b-2.0- ☐

2.1

.083

2.05

.081

2.3

.090

COFA2-2.1- ☐

COFA2b-2.1- ☐

2.2

.087

2.15

.085

2.4

.094

COFA2-2.2- ☐

COFA2b-2.2- ☐

2.3

.091

2.25

.089

2.5

.098

COFA2-2.3- ☐

COFA2b-2.3- ☐

2.4

.094

2.35

.092

2.6

.102

COFA2-2.4- ☐

COFA2b-2.4- ☐

2.5

.099

2.45

.096

2.7

.106

COFA2-2.5- ☐

COFA2b-2.5- ☐

2.6

.102

2.55

.100

2.8

.110

COFA2-2.6- ☐

COFA2b-2.6- ☐

2.7

.106

2.65

.104

2.9

.114

COFA2-2.7- ☐

COFA2b-2.7- ☐

2.8

.110

2.75

.108

3.0

.118

COFA2-2.8- ☐

COFA2b-2.8- ☐

2.9

.114

2.85

.112

3.1

.122

COFA2-2.9- ☐

COFA2b-2.9- ☐

3.0

.118

2.95

.116

3.2

.126

COFA2-3.0- ☐

COFA2b-3.0- ☐

3.1

.122

3.05

.120

3.3

.130

COFA2-3.1- ☐

COFA2b-3.1- ☐













COFA Deburring Series 2 - Spare Parts

1

2

3

4

Retainer Pin

Assembly Pin

Split Pin

Blade

GH-H-S-1017

C2-V-0001

C2-E-0002

See Below

5

6

7

Spring

Set Screw

Wrench

Fixture

See Below

GH-H-S-0135

GH-H-S-2106

C3-V-0002
Spring Options:


The cutting force of the COFA tool is controlled by a flat spring
Choose the proper spring for the material being machined.

Spring Code

Order Number

Typical Materials
Large or Heavy Burrs may require a stronger spring

W

C2-E-0013

Aluminum, Brass, Magnesium

H

C2-E-0014

Grey Cast Iron, Nodular Iron

S

C2-E-0015

Carbon Steel, Free Machining Steel

Z*

C2-E-0016

Nickel, Titanium, Stainless

* Not recommended with COFA2-2.0 tool.
Blade Options:


Blades are available from stock as front and back cutting (fab) or back cutting only (bco).

Blade Code

Blade Type

Geo.

Series 2

TiALN 20° Standard

fab

C2-M-0006-A

b

bco

C2-M-0016-A

y

TiALN 10°

fab

C2-M-0007-A

yb

bco

C2-M-0017-A
How to Order:
Ordering is simple. The COFA tool provides different blade and spring options
to create the most effective tool for any application depending on the hole
geometry and type of material being machined.

1. Choose the tool that best fits the hole diameter.
2. Choose the blade that best fits the hole geometry.
3. Choose the spring that best fits the material.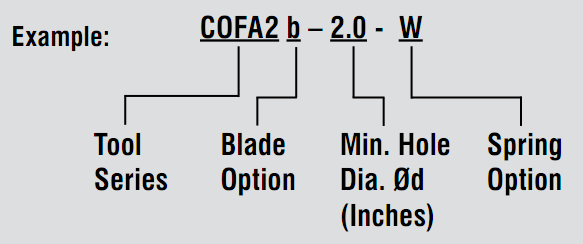 | | | |
| --- | --- | --- |
| | We reserve the right to make technical changes. | |