OTT+HEUGEL
Circular Knives
Over the last decades, OTT+HEUGEL had established a leading role in manufacturing circular knives, well-known by the brand names DuraCut®, CarboCut® and CeramCut® The typical application is to find in the paper and corrugated industry as well as in the rubber and electronic industry.

DuraCut® Circular Knives are available in different steel qualities like HSS/DMo5, HSS-E/EMo5Co5 and various tool steels. All Circular Knives will be produced for customers special application from diameter 50 mm up to 570 mm. Typical applications are edging, trimming, length and cross cutting of paper, cardboard materials, plastics, rubber, leather, plasters and bandaging material, textiles, fitted carpeting, floor coverings and wire gauzes.

CarboCut® Circular Knives are supplied in high premium Solid Carbide quality. These Circular Knives are designed for high precision automatic cutting lines and wherever tight tolerances are required. All Circular Knives are manufactured from diameter 50 mm up to 300 mm. Different coatings are also available. Typical applications are for the automotive and electronic industries.

CeramCut® Circular Knives are high precision cutting tools made of ceramic. These tools are individual solutions and are characterised by their extreme high mechanical hardness and wear resistance. The basic materials are different selections of oxides, carbides, etc. These tools are supplied up to a maximum diameter of 200 mm.
Steel and Solid Carbide Qualities

High speed steel, tool steel and powder steel:

O+H quality

DIN

AISI

JIS

Hardness

1.
HSS
1.3343
M2
SKH51
The hardness will be
defined in
accordance to the
application
2.
HSS-E
HSS
1.3243
1.3355
M35
T1
SKH55
SKH2
3.
Tool steel
1.2080
1.2379
D3
D2
SKD1
SKD11
4.
Powder steel
ASP23
ASP53
Solid carbide qualities:

O+H quality

DIN

Hardness
app.
Tensile strength
N/mm2
Grain size
µm
1.
CarboCut®
G20
1340 HV
2500
1.0 - 2.0
2.
CarboCut®
G20
1220 HV
2800
1.0 - 2.0
Circular Knife Definition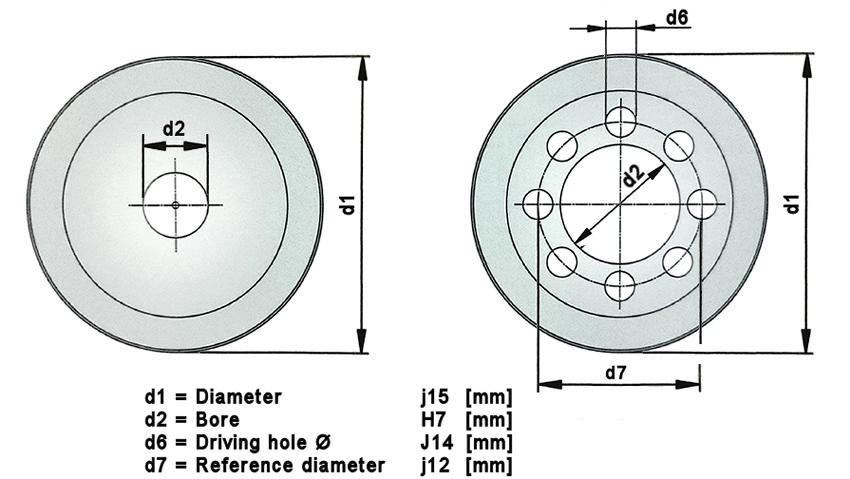 Surface Technology and Coatings
The circular knives made of HSS and solid carbide are available with different coatings depending on the application. Coated circular knives are mainly used in order to reduce the friction and to improve the sliding behaviour. Beside the thin layer coatings such as CONCEPT based on titaniumnitrid there are also anti-friction coatings available such as Teflon etc.
Bevel Design



Bevel design

OTT+HEUGEL
drawing
OTT+HEUGEL
standard no.
examples

Quality

Diameter
[mm]
Width
[mm]

Tolerance of width

Reference to the application

single bevel
standard
form
12

| | | |
| --- | --- | --- |
| HSS | Ø 50-570 | 1.0 - 12.0 |
| WS | Ø 50-570 | 1.0 - 12.0 |
| VHM | Ø 50-315 | 1.0 - 12.0 |
| PM | Ø 50-570 | 1.0 - 12.0 |

HSS
standard

±0.05mm
up to
Ø 499mm;

±0.15mm
up to
Ø 570mm;

solid carbide

±0.05mm
1
double bevel
standard
form
11

| | | |
| --- | --- | --- |
| HSS | Ø 50-570 | 1.0 - 12.0 |
| WS | Ø 50-570 | 1.0 - 12.0 |
| VHM | Ø 50-315 | 1.0 - 12.0 |
| PM | Ø 50-570 | 1.0 - 12.0 |

2
single bevel with top bevel
standard
form
16

| | | |
| --- | --- | --- |
| HSS | Ø 50-570 | 1.0 - 12.0 |
| WS | Ø 50-570 | 1.0 - 12.0 |
| VHM | Ø 50-315 | 1.0 - 12.0 |
| PM | Ø 50-570 | 1.0 - 12.0 |

3
double bevel with top bevel on both sides
standard
form
15

| | | |
| --- | --- | --- |
| HSS | Ø 50-570 | 1.0 - 12.0 |
| WS | Ø 50-570 | 1.0 - 12.0 |
| VHM | Ø 50-315 | 1.0 - 12.0 |
| PM | Ø 50-570 | 1.0 - 12.0 |

4
HSS=high speed steel WS=tool steel VHM=solid carbide PM=powder material
Tooth and Notch Design


Tooth/Notch
design
OTT+HEUGEL
drawing
OTT+HEUGEL
standard
examples

Definition

Reference to the application

without tooth and notch design

ATBN 03333

-

A

standard tooth

ATBN 03334

t = toothdepth

r = radius

a = rake angle

B

standard notch

ATBN 03336

b = width

t = depth

C

special notch

ATBN 03338

b1 = width

t1 = depth

b2 = width

t2 = depth

D
Applications with reference to Bevel and Tooth Design



Application

Industry

Examples

Dimension
[mm]

Quality

Reference to bevel and tooth design

tube and profile industry, rubber, plastic in combination with steel

hydraulic hoses for the automotive industry, high pressure hoses for the chemical industry

300 x 2.5 x 50
260 x 1.5 x 50
HSS-E
WS
2 A
4 D
3 C

textile, foamed material

sealing and insulating material, textile sheet, packing material

250 x 2.0 x 32

HSS

1 C
2 A

paper and cardboard industry

cardboard tubes for toilet paper, round cartons for packing industry

125 x 2.0 x 60

HSS

4 A

foil and adhesive tape industry

aluminium and pvc foil, single or double adhesive tapes, surgical bandage

200 x 1.5 x 30

solid carbide

3 A
2 B
| | | |
| --- | --- | --- |
| | We reserve the right to make technical changes. | |